Accent Realty LTD - Serving Shenandoah Valley Since 2001 - Call Today: 540-335-8330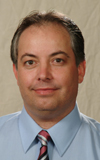 Florin Copaceanu has been a certified Realtor in the New Market, VA area since 2001 years and a broker since 2007. A multi-million dollar producer for every year since he's been in the real estate business, Florin knows how to help sellers as well as buyers.
He is not afraid of physical work when needed, and he's been known to help sellers and buyers alike not only to move in but also find the right painter, plumber, landscaper, etc.
Florin is a husband to Adriana and a dad to Val and Ana and is known for his sometimes corny jokes.
If you are looking to buy a home in the Shenandoah Valley Or Rockingham areas, then you are in the right place. Call Florin today at 540-335-8330 and he'll make sure your real estate needs are met.
Our Office is located at 2611 South Congress St., New Market, VA 22844 - stop by today!